Mohan Chinnasamy
Mohan Chinnasamy is a singer-songwriter who hails from Chennai. As a songwriter, singer, and music producer he collaborated with various artists and other music producers to produce an Independent Music album called "From The Dust ".
He had an interest in music from his childhood but due to lack of opportunities to learn formal music education, he couldn't study music as a formal course during school days but, the passion and an irresistible thirst for music never stopped him to pursue it his goal. 
In 1996, At the age of 16, Mohan Chinnasamy started his musical journey by composing his first song. In 2019, He released his independent music album through a music record label "Rishon N Ryan Creations " along with Singer Pr John Jebaraj, Music Director David Selvam, Levin Samuel, Jolly Abraham, Max Rajkumar. He worked with eminent musicians from Tamil film 
industry such as Keba Jeremiah, Napier Naveen, Mani (Star Vijay TV) , sarangi 'Dliruba' player Saroja, 'Sarangi' Manonmani, and popular Indian percussionist Kiran. 
He started to build an online music community with his social media presence on YouTube, Twitter, Instagram, and Facebook. Since then, He garnered a large following and has been featured in more than 120 international music media outlets such Apple iTunes, Spotify, YouTube music, Jiosaavn, Amazon music, Shazam, Hungama, etc.. 
Mohan chinnasamy has benefited society in more than one way He has also managed to achieve what most people only think of in a short span of 3 years of time Below listed are some of the accomplishments. He has been named among the top 50 musical artists in the Gospel
Music Industry In Chennai
He has been recognized and bestowed with the "Certificate of commitment " Award from the World book of Records (WBR), Switzerland in 2021.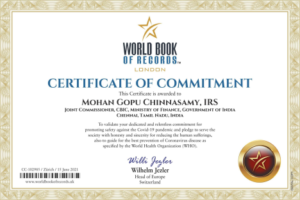 He got awarded as "best singer" in a singing competition held on the 75th independence day celebration organized by the office of the commissioner of GST and central excise, CBIC. 
At present, He is actively pursuing Hindustani Classical music from Shri Kuldeep Sagar from Alaap music academy, Chennai, and Classical Carnatic music from Shri T. L. Thiagarajan, son of veteran Playback singer Shri Trichy Loganathan, who was the first playback singer in the Tamil film industry he has been a contributor to the society by impacting the lives of people with the strong message of self-confidence, optimistic thinking, motivational content through the songs and music which attracted thousands of followers across different social platforms. 
Many of his original songs such as "Neer Sonnal Ellam Aagum" and "Udaintha Paathiram" went viral and which crossed more than 1.5 Million+ views in YouTube, and all his songs from his album fetched more than lakhs of views in YouTube, in which more than 25,000+ people are subscribed him to watch all the songs.
Mohan Chinnasamy is willing soul to encourage and empower many people through his lyrics and songs of various genre which resulting many admiring testimonials. Currently, Mohan Chinnasamy is working on releasing 5 of his upcoming new projects based on "Carnatic Raagas".
Further, He is producing two singles with 'Bharathiyar's original poem and 'Namakkal Kavignar' Ramalingam Pillai's poem as musical songs by collaborating with music composer of his Carnatic music teacher Shri T. L. Thiagarajan. 
Mohan shares content on social awareness, informative stories, and motivation. Through his content and guidance, he makes sure that he serves as an inspiration to many aspiring young talents in music and songwriting. He actively contributes to groom new singers by sharing his experiences and resources and also by presiding over as judge in various music festivals and programs. 
Learn more about Mohan Chinnasamy by visiting his official website