What may it take an artist to break through the clustered mainstream charts in the United States filled with powerhouse names like Nas, DMX, and so on? It is a challenge that most unsigned/indie artists struggle to reach, but like any difficult task, the reward you reap is larger. This week you may see an unfamiliar face on the iTunes charts, sitting in company with all your favorite major artists.
Rob Twizz debuts
Rob Twizz debuts his new E.P "If Not Now Then When" at #15 on the Hip Hop/Rap iTunes charts and #150 in all album genres. A massive accomplishment for any artist and the pinnacle of an independent release. The E.P features 5 new records, all different styles to cater to a wide variety of audiences within a 12-minute duration. Rob also recruits the help of Roc Nation recording artist Manolo Rose and former Def Jam recording artist Razah as a feature presentation on the disc.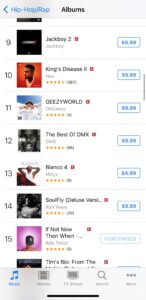 How does an unsigned artist with minimal air play/online virality even reach these lengths? According to his twitter, here is what Rob had to say: "PRE-ORDERS, PRE-ORDERS, PRE-ORDERS!" Yes, you guessed it, pre-orders! It's an internet driven world, but this example shows that if you give yourself enough preparation and have the support in person, the goal is achievable. Rob Twizz is now one of the first artist in his city of Yonkers, NY to independently chart on iTunes with no co-sign or major distribution.
You can now stream the E.P on all major platforms.